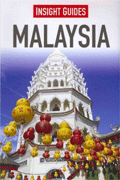 Insight Malaysia Travel Guide
Price:
$23.99
You Save: $4.80 (20.01%)
Brought to You by the The World Leaders in Visual Travel Guides and the Discovery Channel
Be inspired by this new edition of Insight Guide Malaysia, which has been comprehensively overhauled, with hundreds of brand-new, specially commissioned color photographs that bring the destination to life. New chapters on Malaysia's astoundingly rich biodiversity, contemporary state, and multicultural people complement the detailed coverage of the country's history, dazzling architecture, and fabulous cuisine, while special travel photography features focus on hawker food, Sarawak longhouses, and more.
The first part of the book details Malaysia's rich natural landscape, fascinating history, and dynamic modern culture. The Places section contains descriptive region-by-region accounts of where to go, complemented by attractive, detailed maps linked to the key sights by numbered dots.
At the back of the book, the Travel Tips section provides all the practical information you'll need to plan a memorable trip, as well as selective listings giving our writer's pick of the best places to stay and eat.
Evocative Photography - Insight Guides are renowned for their evocative pictures, which vividly convey a sense of everyday life
Illuminating Text - Expert writers bring to life Malaysia history, culture, parks, arts, food and, above all, it's people
Incisive Evaluations - From Kuala Lumpur to Kelantan, and from Cameron Highlands to the Borneo states of Sabah and Sarawak, it's all here
Detailed, Cross-Referenced Maps - All sights are clearly highlighted and numbered in relation to the text
Full Listings - All the travel details, hotels, restaurants, and phone numbers you'll need.
Insight Guide Malaysia includes a section detailing Malaysia's history, features covering aspects of the country's life and culture, ranging from high-rise Petronas Twin Towers to Sarawakian longhouses, a region by region visitor's guide to the sights, and a comprehensive Travel Tips section packed with essential contact addresses and numbers. Plus many magnificent photographs and maps.
Published: January 2013
Need a great map of Malaysia? The Periplus Map of Malaysia is a great choice for all travelers.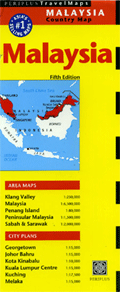 ISBN: 9781780051079