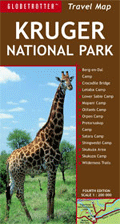 Globetrotter Kruger National Park Travel Map
Price:
$8.95
You Save: $0.89 (9.94%)
Designed for Tourists
This Travel Map caters specifically for the needs of tourists who are new to a destination. Each map is attractively designed and features superb colozr photographs. In addition to the main map of The Kruger National Park the following areas of special interest to visitors are shown in greater detail: Skukuza, The Southern Region, The Central Region, The Northern Region, The Far Northen Region, Areas Adjoining the Kruger National Park.
A map of Northern Kruger National Park is on one side of the page; the map of Southern Kruger National Park is on the other side of the page.
Includes maps of:
Berg-en-Dal Campe (1:9,400)
Crocodile Bridge (1:2,700)
Letaba Campe (1:9,800)
Lower Sabie Campe (1:4,800)
Mopani Campe (1:9,000)
Olifants Campe (1:6,000)
Orpen Campe (1:40,000)
Pretoriuskop Campe (1:5,700)
Satara Campe (1:7,700)
Shingwedzi Campe (1:6,500)
Skukuza Areae (1:5,200)
Skukusa Campe (1:6,800)
Wilderness Trails
Also includes regional climate charts, full-color photographs, a distance chart in kilometers, and a concise place-names index.
Map is 10 x 5 in folded and 39 x 28 unfolded.
Scale: 1:200,000
ISBN: 1845375211