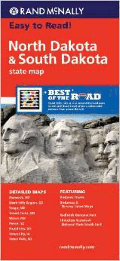 Rand McNally North Dakota/South Dakota Map Travel Map
Price:
$5.99
You Save: $0.60 (10.02%)
The Most Trusted Name in US Maps
Rand McNally's folded map for North Dakota and South Dakota is a must-have for anyone traveling in or through the states, offering unbeatable accuracy and reliability at a great price. Our trusted cartography shows all Interstate, U.S., state, and county highways and much more.
The easy-to-use legend and detailed index make for quick and easy location of destinations. You'll see why Rand McNally folded maps have been the trusted standard for years.
Points of interest
State park chart
State mileage chart
Driving times map
On-the-road toolbox
Visitor center information
Climate data
State facts & symbols
Easy-to-use legend
Detailed indexed
Detailed maps include: Bismark, ND; Black Hills Region, Fargo, ND; Grand Forks, ND; Pierre, SD; Rapid City, SD; Sioux Falls, SD
Published: 2011
ISBN: 9780528881831