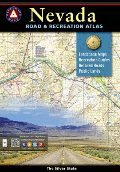 Benchmark Nevada Road & Recreation Atlas Travel Map
Price:
$22.95
You Save: $2.29 (9.98%)
Benchmark Maps- Includes Both Landscape Maps and Recreation Guides
Easy-to-read land forms and complete, comprehensive roads show you where you are and what lies around you, whether you are sailing up the Interstate or navigating dirt roads in the back country Our field checking identifies the latest suburban cutoffs and the back country roads you can actually use - but we still show all those logging roads and 4-wheel trails for determined adventurers!
Every Road from Interstate freeways to four-wheel-drive backroads.
All Rivers, streams, lakes, and marshes.
Campgrounds, parks, and points of interest.
Recreation guide for each of the recreation and public lands maps!
Includes Latitude and Longitude grid for GPS coordinates!
Nevada has long been known as the wildest adventure state in the lower 48, and this atlas is the first atlas to fully corral all of its marvels and outdoor potential.
Careful and thorough field checking and local research assure users the best Nevada outdoor experience possible. Recreation maps show hunting units and public lands, emphasizing historic trails and points of interest. Every page also benefits from Benchmark's exhaustive field and fact checking- unparalleled in the industry.
Perfect Bound, 96 pages, 16x11
ISBN: 9780929591957