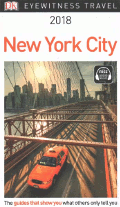 DK Eyewitness New York City Travel Guide
Price:
$25.00
You Save: $5.00 (20.00%)
The Guides that Show You What Others Only Tell You
Newly revised, updated, and redesigned for 2017.
Experience the best of New York City with DK Eyewitness Travel Guide: New York City. This newly updated travel guide for New York City will lead you straight to the best attractions Manhattan has to offer, from unearthing archaeological treasures at The Metropolitan Museum of Art to biking through Central Park to discovering the city's hottest neighborhoods on walking tours. Plus, check out the best of the boroughs with suggested highlights for Brooklyn, Queens, Staten Island, The Bronx, and upper Manhattan.
Expert travel writers have fully revised this edition of DK Eyewitness Travel Guide: New York City.
Themed itineraries help plan trips to New York City by length of stay or by interest.
Improved neighborhood walking maps now include restaurant locations by area.
Completely new hotel and restaurant listings now include DK Choice special recommendations.
New typography and fresh layout throughout.
You'll still find DK's famous cutaway illustrations of major architectural and historic sights, museum floor plans, and 3-D aerial views of key districts to explore on foot, along with in-depth coverage of the city's history and culture. A free pull-out city map is marked with sights from the guidebook and includes a street index, a metro map, and a chart showing the walking distances between major sights.
With hundreds of full-color photographs, hand-drawn illustrations, and custom maps that illuminate every page, DK Eyewitness Travel Guide: New York City truly shows you this city as no one else can.
At first glance New York City might seem overwhelming, but the Eyewitness Travel to New York City will make the city feel uncomplicated. Take a bite out of the Big Apple as you discover New York's shopping, museums, restaurants, hotels, parks, nightlife, and theaters. This lavishly illustrated guide will enlighten your experience and make it easy to manage. Everyday in New York offers its visitors something new to see and experience.
Published: October 2016
ISBN: 9781465441096