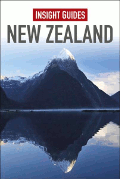 Insight New Zealand Travel Guide
Price:
$24.99
You Save: $5.00 (20.01%)
Available November 2013
Insight Guide New Zealand is a comprehensive, highly illustrated travel guide to a land of epic scenery, thrilling outdoor experiences and fascinating cultural diversity.
Be inspired by the stunning photographs, Best of New Zealand section highlighting unmissable sights and experiences and lavish Photo Features describing New Zealand's fascinating culture.
A detailed Places section, with full-color maps, shows you where to go and what to do, covering the entire country, from Auckland to the vast southern extremes of Southland and Stewart Island, taking in beautiful beaches and vineyards, adrenaline-pumping outdoor activities, Maori culture and the safe, laid-back atmosphere of this small and friendly country.
A comprehensive Travel Tips section gives you all the travel advice you need to plan your trip, as well as our selective listings that guide you to the best hotels and restaurants.
Evocative Photography - Insight Guides are renowned for their evocative pictures, which vividly convey a sense of everyday life.
Illuminating Text - Expert writers bring to life New Zealand's history, culture, parks, arts, food and, above all, it's people.
Incisive Evaluations - From Ninety Mile Beach to the southern fiordlands, from the heights of Mount Cook to the Whanganui River, it's all here.
Detailed, Cross-referenced Maps - All sights are clearly highlighted and numbered in relation to the text.
Full Listings - All the travel details, hotels, restaurants, and phone numbers you'll need.
Insight Guide New Zealand includes a section detailing New Zealand's history, features covering aspects of the country's life and culture, ranging from classic Maori art to its love of outdoor adventure, a region by region visitor's guide to the sights, and a comprehensive Travel Tips section packed with essential contact addresses and numbers. Plus 19 maps and many excellent photographs.
Published: November 2013
Will you be driving in New Zealand? We recommend the HEMA Motoring Atlas for trouble-free auto touring.
ISBN: 9781780051765