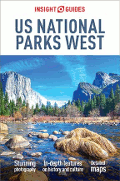 Insight US National Parks: West Travel Guide
Price:
$24.99
You Save: $5.00 (20.01%)
From the World Leaders in Visual Travel Guides, Along With the Discovery Channel.
A full-color guide to National Parks in the Western USA! Covering the Pacific Coast, California, the Southwest, and the Rocky Mountains.
This guide covers more than 28 national parks in the Western United States, and provides you with everything to plan your trip and navigate your way through the parks with one of the numerous full-color maps when you arrive!
Personal recommendations help you to decide which sights to see, and the color photographs alongside detailed descriptions of the fascinating wildlife, landscape, and geology let you maneuver the lands like a native.
This book provides everything you'll ever need in a guidebook. It is an inspiring background read, an invaluable on-the-spot companion and a superior souvenir of your visit
Evocative photography Insight Guides are renowned for their great pictures, which vividly convey the parks' startling beauty and awesome grandeur
Illuminating text Expert writers discuss in detail the scenic splendor of the parks, the flora and fauna and the historic sites
Incisive evaluations From Arches to Zion, from the Rocky Mountains to the Californian Desert and to Alaska, it's all here
Detailed, cross-referenced maps All sites are clearly highlighted and numbered in relation to the text
Full listings All the travel details, phone numbers and park information you'll need
Published: April 2011
ISBN: 9789812822611