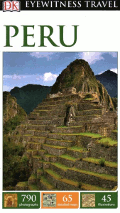 DK Eyewitness Peru Travel Guide
Price:
$25.00
You Save: $5.00 (20.00%)
The Guides that SHOW you What Others only TELL You
Eyewitness Guides are marvels of writing, color photography, and illustration!
In this guide to Peru, you get:
Packed with photographs, illustrations, and maps
Cutaways and floor plans of all the major sights
Street by Street Walks and Thematic Tours
Where to eat, where to stay, and how to get around
Includes a section on Traveler's Needs and a Survival Guide
Let this lavishly illustrated guide whet your appetite and show you where to start looking for the real Peru - with cutaways and floor plans of all the major sites, and special features on the ancient Caral and the Colonial splendor of the Spanish conquistadors.
Sample the flavor of the country region by region, with new full-color detailed maps of towns and regions and comprehensive listings of hotels and restaurants.
Find out all you need for sights, beaches, markets and festivals listed town by town, from a home stay in the floating village of Lake Titicaca to a morning flight over the magical Nazca Lines. And with the absorbing in-depth section on the Inca heartland and a step-by-step route of the Inca trail, this is a guide not to be missed.
Published: August 2016
Take along a great map of Peru. We recommend the Globetrotter Map of Peru. It is specially designed for travelers and is packed with useful and important information.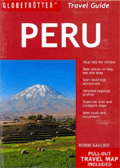 ISBN: 9781465441119