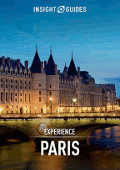 Insight Paris Step by Step Travel Guide
Price:
$16.99
You Save: $3.40 (20.01%)
The City's Best Walks and Tours
A brand new edition of the Insight Step by Step Guide to Paris. This itinerary-based guide details 20 of the City's best walks and tours, written by a local expert, for that personal touch and insider information.
All itineraries are arranged by theme for a truly tailor-made travel experience, so whether you are an art enthusiast, gourmet, historian, shopaholic, architecture buff, or simply want to escape the crowds; there is a tour to suit. This edition includes more detailed information on popular sites such as the fashionable Bastille area and cultural attractions in La Defense, and has revised and updated coverage for Disneyland Paris, including the expansion of the Disney Studios area and the new Toy Story Playland.
For those wanting to enjoy the full Parisian experience, this is an ideal way to link the top attractions with places to eat, drink and rest along the way, along with opening times and admission prices. All itineraries are marked on full-color detailed maps alongside the text and also on a separate, fully indexed pull-out map that can be used in conjunction with the guide or independently, to ensure easy navigation at all times.
Colored text boxes provide a summary of the tour duration and overall distance so you can choose the appropriate tour for the amount of time you have to spare.
This is the only guide to contain 'Only in - ' information; highlighting unique experiences exclusive to Paris, such as the opportunity to see the Sunrise in Montmartre or have coffee in a classic cafe. The 'Directory' section contains a clearly organized A -Z list of practical information, including hotel and restaurant listings for all budgets.
The stylish design, full color photography and durable, flexibound cover makes this guide not only a pleasure to read, but also the ultimate companion when exploring Paris.
Published: December 2010
128 pages: 9.25 H x 0.50 D x 5.50 W, 0.68 lbs.
Carry a great map of Paris on your vacation or business trip. We recommend the Streetwise Map of Paris. It is laminated for durability and very easy to read and use.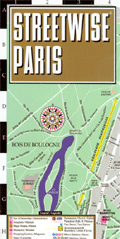 ISBN: 9789812821027