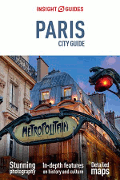 Insight Paris Travel Guide
Price:
$19.99
You Save: $4.00 (20.01%)
Superb Photography, Inspiring Text, Incisive Reviews
City Guide Paris is a full-color travel guide to one of the world's favorite cities, offering inspiration for planning a trip and practical information for use once you arrive. The book is packed with images that create a vivid portrait of contemporary life, alongside features on culture and history covering topics such as architecture, café life, Paris at the Movies, Paris After Dark, and the cabaret scene.
Paris has so much to offer that it's impossible to see everything; prioritize your time with our Best Of Paris feature and our Editor's Choice – recommendations for where to enjoy the best food and cafes, festivals and shopping.
The Places chapters cover every neighborhood, from the ancient Ile de la Cite to ultra-modern La Defense. Maps help you navigate the city with confidence, and our selective reviews of hotels and restaurants guide you to the best establishments.
An Editor's Choice section with insiders' recommendations for lesser-known sights, best family activities, views, walks, clubs, and more, as well as money-saving tips to get the most out out of any travel budget
TOP SIGHTS Full pictorial coverage brings to life every main attraction
EDITOR'S TOP TIPS reveal lesser-known sights, family activities, money-saving hints
UNBEATABLE INSIGHTS Local writers reveal the city's history, people and culture
RECOMMENDED ROUTES The simplest way to navigate through the many sights
EATING AND SHOPPING Reviews of the best restaurants, plus where to find the best buys
A NEIGHBORHOOD BY NEIGHBORHOOD treatment of attractions plus extensive hotel, restaurant and shopping listings - and a wealth of maps pointing the way to them
TWO STREET ATLASES For extra clarity, one indexed atlas locates hotels and restaurants, and the other plots principal sights and attractions
TRAVEL TIPS A comprehensive listings section covers hotels, getting around, festivals, nightlife and tours, as well as practical information
Published: June 2013
Need a great map of Paris? The Streetwise Map of Paris is a great choice!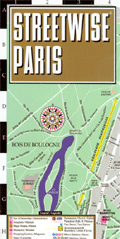 ISBN: 9781780050713