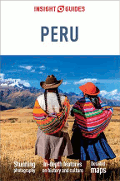 Insight Peru Travel Guide
Price:
$24.99
You Save: $5.00 (20.01%)
From the World leaders in Visual Travel Guides and the Discovery Channel
Insight Guide Peru is your comprehensive guidebook to one of the world's most spectacular countries. Full-color photos and maps throughout combine with the lively text to help you get under the skin of this breath-taking destination.
As well as cultural features by local writers and an inspirational trip through the region, the"Best of Peru" section will tell you what not to miss, from Machu Picchu and the architectural marvels of the Sacred Valley to the elegant cities of Arequipa and Cusco. Turn to the travel tips for lots of practical information on finding the best places to stay, to eat, and much more.
Evocative Photography - Insight Guides are renowned for their evocative pictures, which vividly convey a sense of everyday life.
Illuminating Text - Expert writers bring to life Peru's history, culture, arts, and, above all, its people.
Incisive Evaluations - From the Amazon rainforest to the streets of Lima, from majestic Machu Picchu to the mystery of the Nazca lines, it's all here.
Detailed, Cross-referenced Maps - All sights are clearly highlighted and numbered in relation to the text.
Full Listings - All the travel details, hotels, restaurants, and phone numbers you'll need.
Insight Guide Peru includes a section detailing Peru's history, 9 features covering the country's life and culture, ranging from the Quechua-speaking people of the Andes to the fusion of Catholic, Inca and early agricultural rites, a region by region visitor's guide to the sights, and a comprehensive Travel Tips section packed with essential contact addresses and numbers. Plus many exciting photographs and 10 maps.
Published: October 2012
ISBN: 9781780050973