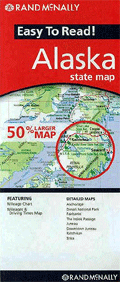 Rand McNally Alaska Easy to Read Travel Map
Price:
$5.99
You Save: $0.60 (10.02%)
Something for Everyone Who Travels!
Rand McNally Road Maps
Index includes counties as well as cities and towns.
Mileage Log for easy trip planning.
State Parks and recreational areas.
Inset Maps of major cities and places of interest.
More than just a road map, Rand McNally is the name in maps of the United States. Clear, concise, simple and easy to use, Rand McNally State maps make driving a breeze, whether it's your home state or halfway across the country.
Alaska State Map includes maps of Anchorage,Fairbanks, Denali National Park, Juneau, Juneau Downtown, Ketchikan, Sitka and the Inside Passage. Plus it includes Points of Interest, State Park Information, a Mileage Chart, Road Condition Hotlines and Welcome Centers.
ISBN: 9780528882166