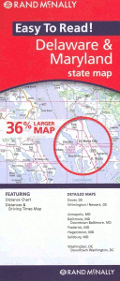 Rand McNally Delaware & Maryland Travel Map
Price:
$5.99
You Save: $0.60 (10.02%)
Something for Everyone Who Travels!
Rand McNally's folded map for Delaware and Maryland is a must-have for anyone traveling in or through these states, offering unbeatable accuracy and reliability at a great price. The trusted cartography shows all Interstate, U.S., state, and county highways and much more.
Points of interest
State park chart
State mileage chart
Driving times map
On-the-road toolbox
Visitor center information
Climate data
State facts & symbols
Easy-to-use legend
Detailed indexed
Detailed maps include: Dover, DE; Wilmington, DE; Annapolis, MD; Baltimore, MD; Baltimore Downtown, MD; Frederick, MD; Hagerstown, MD; Washington, D.C., Washington, D.C. Downtown.
Published: 2010
ISBN: 9780528881145