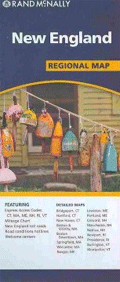 Rand McNally New England Travel Map
Price:
$5.99
You Save: $0.60 (10.02%)
Something for Everyone Who Travels!
More than just a road map, Rand McNally is the name in maps of the United States. Clear, concise, simple and easy to use, Rand McNally State maps make driving a breeze, whether it's your home state or halfway across the country.
Index includes counties as well as cities and towns
Mileage Log for easy trip planning.
State Parks and recreational areas.
Inset Maps of major cities and places of interest.
Rand McNally's New England Map includes Connecticut, Maine, Massachusetts, New Hampshire, Rhode Island & Vermont.
Inset maps of major metropolitan areas include Bridgeport, Hartford, New Haven, Boston & vicinity, Downtown Boston, Springfield and Worcester in Massachusetts, Augusta, Bangor, Lewiston and Portland in Maine, Concord, Manchester and Nashua in New Hampshire, Newport and Providence in Rhode Island, and Burlington and Montpelier in Vermont.
Published: March 2010
ISBN: 9780528881855