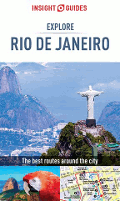 Insight Rio De Janeiro Travel Guide
Price:
$21.95
You Save: $4.39 (20.00%)
Brought to you by the Discovery Channel
Insight Guide Rio de Janeiro provides everything you'll ever need in a guidebook. It's a terrific background read before you go, an invaluable on-the-spot companion, and a great souvenir of your visit.
Evocative Photography - Insight Guides are renowned for their evocative pictures, which vividly convey a sense of everyday life.
Illuminating Text - Local writers bring to life the city's history, culture, arts, and, above all, its people.
Incisive Evaluations - From steamy Copacabana Beach and sophisticated Ipanema, to the breathtaking heights of Sugarloaf and Corcovado mountains, it's all here!
Detailed Maps - All sites are clearly shown on specially drawn maps.
Full Listings - All the travel details, hotels, restaurants, and phone numbers you'll need.
Published: 2001
Need a great map of Rio? The Insight Fleximap of Rio de Janeiro is a great choice for all travelers.
ISBN: 9780887297489