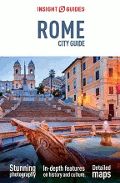 Insight Rome Travel Guide
Price:
$19.99
You Save: $4.00 (20.01%)
From the World leaders in Visual Travel Guides and the Discovery Channel
Insight City Guide Rome is a comprehensive travel guide to one of the world's most historically rich destinations. From exploring the Coliseum to people-watching on the Spanish Steps, this book will make sure you have the quintessential Rome experience.
Features by local writers delve into everything from classical monuments and modern architecture to Roman markets, with a special focus on the city's treasure-house museums and palazzos. Full-color photography and maps help you navigate with ease and bring the destination to life. The detailed Travel Tips gives you all the practical information and travel advice you need to plan what to do on your trip, including selective listings for hotel and restaurants.
The insightful editorial and spectacular photography that have become the hallmark of Insight Guides
TOP SIGHTS Full pictorial coverage brings to life every main attraction
EDITOR'S TOP TIPS reveal lesser-known sights, family activities, money-saving hints
UNBEATABLE INSIGHTS Local writers reveal the city's history, people and culture
RECOMMENDED ROUTES The simplest way to navigate through the many sights
EATING AND SHOPPING Reviews of the best restaurants, plus where to find the best buys
A NEIGHBORHOOD BY NEIGHBORHOOD treatment of attractions plus extensive hotel, restaurant and shopping listings - and a wealth of maps pointing the way to them
TRAVEL TIPS A comprehensive listings section covers hotels, getting around, festivals, nightlife and tours, as well as practical information
Published: March 2013
Need a great map of Rome? We recommend the Touring Club Italiano (Touring Editore) map of Rome.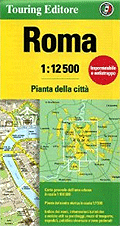 ISBN: 9781780051406