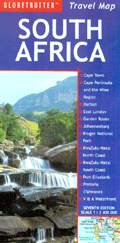 Globetrotter South Africa Map Travel Map
Price:
$8.95
You Save: $0.89 (9.94%)
Designed for Tourists
This Travel Map caters specifically for the needs of tourists who are new to a destination. Each map is attractively designed and features superb color photographs. In addition to the main map of South Africa including areas such as: Gauteng and North West, Limpopo and Mpumlanga, KwaZulu-Natal, Eastern Cape and The Wild Coast, Garden Route and Little Karoo, Western Cape
A map of South Africa is on one side of the page; the city maps are on the other side of the page.
Includes maps of:
Cape Town (1:27,000)
Cape Peninsula & the Wine Region (1:810,000)
Durban (1:23,000)
East London (1:17,000)
Garden Route (1:600,000)
Johannesburg (1:22,000)
Kruger National Park (1:560,000)
KwaZulu-Natal North Coast (1:770,000)
KwaZulu-Natal South Coast (1:740,000)
Port Elizabeth (1:20,000)
Pretoria (Tshwane) (1:27,000)
V & A Waterfront (1:6,000)
Also includes regional climate charts, full-color photographs, a distance chart in kilometers, and a concise place-names index.
Map is 10 x 5 in folded and 39 x 28 unfolded.
Scale: 1:2,400,000
ISBN: 1845375823