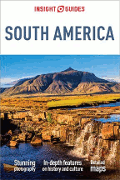 Insight South America Travel Guide
Price:
$24.99
You Save: $5.00 (20.01%)
Brought to You by the The World Leaders in Visual Travel Guides and the Discovery Channel
Insight Guide South America is the most illustrated, full color travel guide to the continent on the market, and its lively narrative and stunning images provide both inspiration and information to plan a memorable trip to South America.
The Best Of section highlights the unmissable sights and experiences – from Peru's breathtaking citadel of Machu Picchu and the Inca Trail, the number one South American trek on most travelers' wish lists, to vibrant Rio with its famous Carnival and beaches, sophisticated Buenos Aires, and the jungles of the Amazon, home to the greatest biodiversity on the planet.
Lively features focus on South America's history and culture, while the Places chapters show you where to go in South America, with beautiful photography, insightful descriptions of all the main attractions, and detailed, full color maps for easy orientation.
The Travel Tips section provides practical information for planning a trip and getting around once you're there, along with our independent reviews of selected hotels and restaurants throughout South America.
Evocative Photography - Insight Guides are renowned for their evocative pictures, which vividly convey a sense of everyday life.
Illuminating Text - Expert writers bring to life South America's history, culture, arts, and, above all, its people.
Incisive Evaluations - From chaotic Caracas to bustling Buenos Aires, from the sandy beaches of Rio to the snowy peaks of the Andes, it's all here.
Detailed, Cross-referenced Maps - All sights are clearly highlighted and numbered in relation to the text.
Full Listings - All the travel details, hotels, restaurants, and phone numbers you'll need.
Insight Guide South America includes a section detailing the history of all the South American countries, features covering the continent's life and culture, ranging from the ancient mysterious mountaintop citadel of Machu Picchu in Peru to the "Paris of South America", that is Buenos Aires, a country by country visitor's guide to the sights, and a comprehensive Travel Tips section packed with essential contact addresses and numbers. Plus many astounding photographs and maps.
Published: June 2013
ISBN: 9781780050676