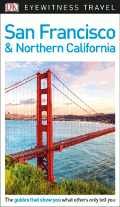 DK Eyewitness San Francisco & N California Travel Guide
Price:
$21.99
You Save: $4.40 (20.01%)
The Guides That Show You What Others Only Tell You
Set on steep, wooded hills and almost surrounded by a vast bay, this jewel of a city is, above all, photogenic. Equip yourself with a camera, a map, good walking shoes, and set off to discover its historic sights, cultural treasures, and vibrant neighborhoods. For more detailed information about famous sites, maps, a huge selection of hotels, restaurants and entertainment venues look to Eyewitness Travel San Francisco and Northern California.
Experience the best of San Francisco with DK Eyewitness Travel Guide: San Francisco and Northern California. This newly updated travel guide for San Francisco will lead you straight to the best attractions the region has to offer, from strolling across the Golden Gate Bridge to sunning with sea lions on Pier 39 to discovering the city's hottest neighborhoods on walking tours. Plus, check out the best of Northern California with suggested highlights for Mendocino, Napa Valley wine country, national parks, and more.
Expert travel writers have fully revised this edition of DK Eyewitness Travel Guide: San Francisco and Northern California.
Improved neighborhood walking maps now include restaurant locations by area.
Completely new hotel and restaurant listings now include DK Choice special recommendations.
New typography and fresh layout throughout.
You'll still find DK's famous cutaway illustrations of major architectural and historic sights, museum floor plans, and 3-D aerial views of key districts to explore on foot, along with in-depth coverage of the city's history and culture. A free pull-out city map is marked with sights from the guidebook and includes a street index, a metro map, and a chart showing the walking distances between major sights.
With hundreds of full-color photographs, hand-drawn illustrations, and custom maps that illuminate every page, DK Eyewitness Travel Guide: San Francisco and Northern California truly shows you this region as no one else can.
Published: October 2016
ISBN: 9781465441294