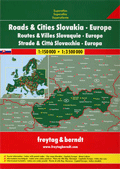 Freytag und Berndt Slovakia Roads & Cities Atlas Travel Map
Price:
$29.95
You Save: $2.99 (9.98%)
Spiral Bound Atlas of Slovakia's roads, cities with tourist information
Roads & Cities Slovakia Superatlas with index with postal codes for each city plus metro area maps. This atlas includes a complete index with tourist information. There are 14 town maps including: Bratislava, Kosice, Levice, Martin, Nitra, Poprad, Trencin, Trnava, Zilina and others.
Most road maps are at a scale of 1:300,000; most city maps are at a scale of 1:15,000.
Spiral Bound Paperback Book, 8.5" x 12 "
ISBN: 9783707907667