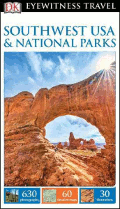 DK Eyewitness Southwest USA and Las Vegas Travel Guide
Price:
$23.00
You Save: $4.60 (20.00%)
The Guides that SHOW you What Others only TELL You
Packed with information, detailed Las Vegas maps, beautiful cutaways and floor plans of all Las Vegas' major sites, this guide explores every facet of the city known as 'the world's playground'.
Packed with Photos, Illustrations and Maps
The Flavors of the Southwest - Local Produce and Classic Dishes
Cutaways and Floor Plans for all Major Sights
Huge Selection of Hotels and Restaurants
Highlights and Maps of the Southwest's National Parks
Walks, Scenic Routes and Thematic Tours
This fully updated and expanded Las Vegas guide provides comprehensive guidance on the best things to do in Las Vegas: from the huge flamboyant resorts, the glittering casinos of the Bellagio and MGM Grand and vast selection of shows, to the spectacular sights of the Hoover Dam and the Grand Canyon. The DK Eyewitness Travel Guide Las Vegas provides all the insider tips every visitor to Las Vegas needs, with dozens of reviews for Las Vegas hotels, recommendations for Las Vegas restaurants, tips for shopping, where to go to get married and all the best places for entertainment in Las Vegas
Covers Southern Utah, the Four Corners, New Mexico, Arizona and Las Vegas.
Published: July 2016
ISBN: 9781465441126