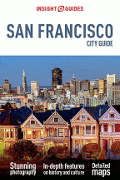 Insight San Francisco Travel Guide
Price:
$19.99
You Save: $4.00 (20.01%)
Brought to You by the The World Leaders in Visual Travel Guides and the Discovery Channel
City Guide San Francisco is a full-color guidebook to northern California's most eclectic city. The Best of San Francisco recommendations will help you make the most of your time, selecting the city's must-see sights, from the elegant mansions on Nob Hill to the dank and murky cells of Alcatraz.
In-depth essays explore the San Francisco's past, including the 1849 gold rush and the earthquake of 1906. Other topics include the literary scene in the Bay City, all the information you need to experience the gourmet's city, and all the gossip about the beatniks and hippies.
A detailed Places section covers all the major sites, such as the winding streets on Telegraph Hill, the exciting nightlife in Union Square, and the historic and impressive Golden Gate Bridge. This guide gives readers comprehensive, opinionated hotel and restaurant recommendations for each area of the city, plus shopping and nightlife listings and a wealth of practical information to guide you around the city.
Over 600 specially commissioned color photographs bring the many facets of San Francisco, and its surroundings, to life. Navigation is made easy with 13 detailed color maps linked to the text by numbered dots, plus a 16-page indexed street atlas.
Evocative Photography - Insight Guides are renowned for their evocative pictures, which vividly convey a sense of everyday life.
Illuminating Text - Expert writers bring to life San Francisco's history, culture, parks, arts, food and, above all, it's people.
Incisive Evaluations - From Fisherman's Wharf and the Golden Gate to Silicon Valley and the sites of Yosemite, Monterey and Napa, it's all here!
Detailed, Cross-referenced Maps - All sights are clearly highlighted and numbered in relation to the text.
Full Listings - All the travel details, hotels, restaurants, and phone numbers you'll need.
Insight Guide San Francisco includes a section detailing San Francisco's history, 6 features covering the city's life and culture, ranging from its gay community to its artistic enterprise, a visitor's guide to the sights, and a comprehensive Travel Tips section packed with essential contact addresses and numbers. Plus 18 maps and many fine photographs.
Need a great map of San Francisco? We recommend the Streetwise Map of San Francisco. It is laminated for durability and packed with important information.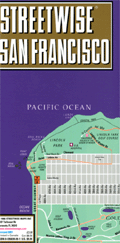 ISBN: 9781780050171