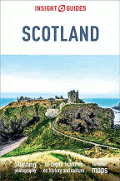 Insight Scotland Travel Guide
Price:
$23.99
You Save: $4.80 (20.01%)
From the World leaders in Visual Travel Guides and the Discovery Channel
This book provides everything you'll ever need in a guidebook. It is an inspiring background read, an invaluable on-the-spot companion and a superb souvenir of your visit.
Includes:
Evocative Photography - Insight Guides are renowned for their evocative pictures, which vividly convey a sense of everyday life
Illuminating Text - Expert writers bring to life Scotland's history, culture, arts, politics and, above all, the people
Incisive Evaluations - From St. Andrews to Sweetheart Abbey, from the glorious heights of Ben Nevis to Edinburgh's elegant New Town, it's all here
Detailed, Cross-referenced Maps - All sights are clearly highlighted and numbered in relation to text
Full Listings - All the travel details, hotels, restaurants, and phone numbers you'll need
Insight Guide Scotland includes a section detailing Scotland's history, features covering aspects of the country's life and culture, ranging from its breathtaking scenery to its intellectual geniuses, a region by region visitor's guide to the sights, and a comprehensive Travel Tips section packed with essential contact addresses and numbers. Plus maps and many incredible photographs.
Published: May 2011
Need a great map of Scotland? The Michelin Map of Scotland is a great choice for all travelers.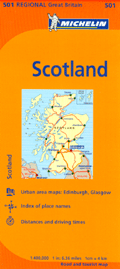 ISBN: 9789812823410