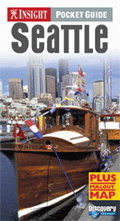 Insight Seattle Pocket Guide Travel Guide
Price:
$13.95
You Save: $2.79 (20.00%)
Includes a FREE Pullout Map
Wouldn't it be wonderful to see the sights with your own local host to give you a native's point of view? The Seattle Insight Pocket Guide delivers this personal service with a sleek, portable guide that gives you the inside scoop. Inside the Seattle Pocket Guide you'll find:
Full-color photography throughout
A brief introduction to the history, culture, and people
Tailor-made itineraries, organized by region, to locations such as Pioneer Square, Capitol Hill, Fremont, the Museum of Flight and Woodland Park
Recommended excursions to nearby destinations, including Snoqualmie and Port Townsend
Full listings on shopping, restaurants, nightlife, and special events
Essential practical information including how to get around, useful addresses, phone numbers, and websites, and hand-picked hotels
A full-color, pullout map which gives an overview of the recommended tours and can also be used independently of the guidebook
Fun, colorful, informative, Insight Pocket Guides are ideal for the traveler with little time to spare or for long weekend getaways.
Published: 2006
ISBN: 9789812583482