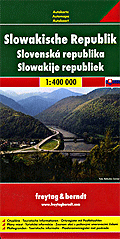 Freytag und Berndt Slovak Republic Travel Map
Price:
$14.95
You Save: $1.49 (9.97%)
Two-sided Map with Complete Place Name Index
Freytag & Berndt maps are handy road maps that cover most of Europe as well as Asia and Africa. With over 175 country and city maps as well as atlases, Freytag & Berndt know how to get you there!
Computerized Cartography
Easy-to-read Index
Multi-lingual map key
The Slovak Republic is also commonly referred to as Slovakia and is the Slovak portion of the former Czechoslovakia. This two-sided map has Slovakia on one side of the map and an index of place names with postal codes on the other side of the map. Along with the index are two city maps for Bratislava and Kosice.
Scale: 1:400,000
This map is printed on sturdy paper with a cardboard cover.
ISBN: 9783707904727