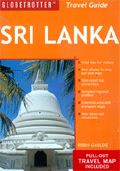 Globetrotter Sri Lanka Travel Guide
Price:
$14.95
You Save: $2.99 (20.00%)
Practical, informative, user-friendly AND it includes a great Map!
The Globetrotter Travel Guide to Sri Lanka highlights the major places of interest, describing their principal attractions and offering sound suggestions on where to tour , stay, eat, shop and relax.
Ideal for the first time visitor.
Lots of full-color maps, town plans, and locator maps.
Best Places to Stay, Eat and Shop
Detailed Regional Profiles
Best Tours & Excursions
Over 80 full-color photographs.
Fold-out map included.
The travel pack includes the guide and map in a compact waterproof cover for easy packing!
ISBN: 1845375467