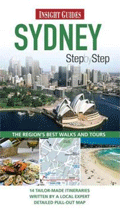 Insight Sydney Step by Step Travel Guide
Price:
$16.99
You Save: $3.40 (20.01%)
Brought To You by the Discovery Channel
Step-by-Step Sydney reveals this exciting city through a selection of clearly laid-out walks and tours, complemented by beautiful, full-color pictures, an authoritative narrative voice, and a wealth of practical information, all in a compact package.
The guide starts with Recommended Tours, suggesting the book's best tours for swimmers, art-lovers and shoppers, among others.
The Walks and Tours section features 14 irresistible self-guided routes, from the harbor and Central Business District to the trendy inner suburbs of Surry Hills and Paddington, on to the beaches at Bondi and Manly, and finishing in the outdoor splendors of the Blue Mountains and Royal National Park. All show step by step how to get the most out of the destination, with something for every budget, taste and trip length. Each of the tours has an clear, easy-to-follow map, hand-picked places to eat and drink en route, great insider tips and informative feature boxes. All this makes it simple for the reader to find the perfect tour for the time they have to spare.
The final section of the book is the Directory, incorporating a user-friendly, fact-packed A to Z of practical information, plus select hotel, restaurant and nightlife listings, which will lead the reader to the best that Sydney has to offer.
Published: October 2011
ISBN: 9781780050126