Insight Thailand's Beaches and Islands Travel Guide
Price:
$18.99
You Save: $3.80 (20.01%)
A Great Visual Guide to this Superb Region of the World
Insight Regional Guide: Thailand's Beaches and Islands offers a uniquely comprehensive approach to getting the most out of one of the most popular beach and island destinations in the world. Engaging and inspiring History and Culture chapters explain the country's intriguing past as a melting pot of multiple peoples in South East Asia and the religion that has shaped the country today.
The breathtaking landscape that attracts so many international visitors is explored alongside the huge variety of outdoor activities that are on offer. The influences on Thailand's world-famous cuisine are also investigated, along with tips for local favorite dishes to try. The Places chapters cover the country's most stunning beach and island destinations in detail and suggest sights to see to help with planning your trip.
Full-color photographs throughout illustrate the sheer beauty of Thailand's beaches and islands more than any other guide to the area on the market, and give a true flavor of life in the country today. Detailed maps throughout the book help visitors get around the different areas, with all major sites cross-referenced with the text, and the Travel Tips sections offer selective advice on where to stay, what to eat and the type of activities that are available in each area. A free color pull-out map locates and describes Thailand's 15 best beaches.
Published: April 2012
Take a great map of Thailand on your vacation. We recommend the Globetrotter Map of Thailand for all travelers.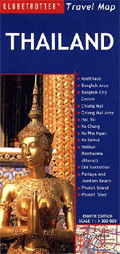 ISBN: 9781780050409