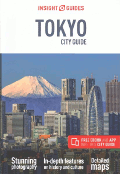 Insight Tokyo City Guide Travel Guide
Price:
$15.95
You Save: $3.19 (20.00%)
Includes FREE Restaurant Map Guide
Tokyo Insight City Guide features sections on areas of interest, including the Imperial Palace, Shinjuku and Asakusa. Other sections cover temples and shrines such as the Gokoku-ji Temple and the Yushima Seido Shrine, and museums such as Edo-Tokyo museum, the Mori Art Museum, and the Nezu Institute of Fine Arts.
Photo features include festival and street performances, landscaping and Sumo. This guide contains information panels on the royal family, the "pink trade" and Tokyo's fashion tribes, as well as helpful travel tips on transportation, accommodation, activities, practical information and language, and twelve area maps.
This book also includes a removable Tokyo Insight Restaurant Guide.
Illuminating text Expert writers offer real insight into Tokyo's history, culture, politics, arts and, above all, its people
Incisive evaluations From traditional Asakusa to throbbing Roppongi, and from trendy Shibuya to old world Yanaka, it's all here
Evocative photography Insight Guides are renowned for their great pictures, which vividly convey a sense of everyday life
Pictorial guide to the Best of Tokyo Selected highlights of the city, including recommended walks and family attractions
Area maps plus street atlas Main sites are cross-referenced by number from text to maps and a street atlas provides the overall picture
Published: 2005
Need a great map of Tokyo? The Borch Map of Tokyo is a great choice for all travelers.
ISBN: 9789814137591