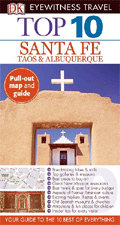 DK Eyewitness Top 10 Santa Fe, Taos and Albuquerque Travel Guide
Price:
$14.00
You Save: $2.80 (20.00%)
Your Guide to the 10 Best of Everything
DK Eyewitness Top 10 Guides make any destination accessible by offering dozens of lists of the 10 best restaurants, bars, neighborhoods, hotels, local attractions, and much more. With insider tips for every visitor, the Top 10 series offers inside knowledge, and now contains a pull-out map and guide that includes fold-out maps of city metro systems, useful phone numbers, and 60 great ideas on how to spend your day.
Rely on dozens of Top 10 lists — from the Top 10 historical monuments to the Top 10 events and festivals. There's even a list of the Top 10 things to avoid.
The guide is divided by area with restaurant reviews for each, as well as recommendations for hotels, bars, and places to shop. You'll find the insider knowledge every visitor needs and explore effortlessly every corner of the city with DK Eyewitness Travel Guide: Top 10 Santa Fe, Taos and Albuquerque and its free pull-out map.
Published: August 2012
ISBN: 9780756685478