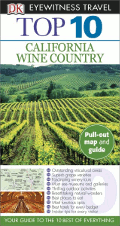 DK Eyewitness Top 10 California Wine Country Travel Guide
Price:
$14.00
You Save: $2.80 (20.00%)
Your Guide to the 10 Best of Everything
DK Eyewitness Top 10: California Wine Country will lead readers straight to the very best of this beautiful region. For travelers who want to taste their way around the area's many vineyards, hike through beautiful landscapes or marvel at the region's numerous historic sites, this guide is the perfect pocket-sized companion.
Rely on dozens of top 10 lists, from the 10 best winery tours and grape varieties to the top 10 beaches, natural sites and restaurants. The guide is divided by area, highlighting the best spots all over California's wine country, and it's packed with hotel and restaurant reviews.
DK Eyewitness Top 10: California Wine Country and its pull-out map provide the insider knowledge every visitor needs to explore the entire region effortlessly.
Published: December 2014
Carry a great map of California on your vacation. We recommend the Rand McNally Easy to Read Map of California. It has enlarged print that makes it easy to find everything!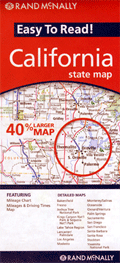 ISBN: 9781465410450