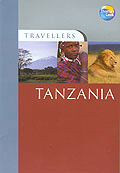 Thomas Cook Tanzania Traveller
Compact, but packed with useful travel information
The Thomas Cook Traveller to Tanzania comes from the world's leading travel expert and has everything you need to plan the perfect trip.
Highlights include:
The top sights and the less well-known ones
Walks and tours with clear maps
Places off the beaten track
Special features on cultural background and other aspects
Vacation hints and tips
A-Z of essential information
Advice on shopping, eating out, sport and nightlife
Need a great map of Tanzania? The ITM Map of Tanzania is a great choice for all travelers.
ISBN: 1-84157-431-7