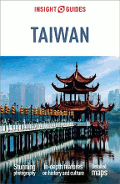 Insight Taiwan Travel Guide
Price:
$23.99
You Save: $4.80 (20.01%)
Available January 2014
Be inspired by the new edition of Insight Guide Taiwan, a comprehensive full-color guide to "the beautiful island." Taiwan is a fascinating country, with a vibrant culture that preserves the best of ancient traditions, while embracing the newest in high-tech modernity, exemplified in the dynamic capital Taipei.
Insight Guides' unrivalled coverage of history and culture provides an essential introduction to this small but diverse country, with features on topics ranging from martial arts to traditional medicine. The Best Of Taiwan selects the country's top attractions, while our Places section contains descriptive region-by-region accounts of where to go, enhanced by beautiful photographs throughout.
All Taiwan's major sights are cross-referenced with full-color maps, and the travel tips section provides a wealth of information on how to plan your trip plus our selection of the best hotels and restaurants.
Evocative Photography - Insight Guides are renowned for their evocative pictures, which vividly convey a sense of everyday life.
Illuminating Text - Expert writers bring to life Taiwan's history, culture, landscapes, and, above all, it's people.
Incisive Evaluations - From the treasures of Taipei's National Palace Museum to the stunning marble cliffs of Taroko Gorge, from bamboo forests to hot spring retreats, it's all here
Detailed, Cross-Referenced Maps - All sights are clearly highlighted and numbered in relation to the text.
Full Listings - All the travel details, hotels, restaurants, and phone numbers you'll need
Insight Guide Taiwan includes a section detailing Taiwan's history, features covering aspects of the type's life and culture, ranging from Chinese Opera to Shopping in Taipei, a region by region visitor's guide to the sights, and a comprehensive Travel Tips section packed with essential contact addresses and numbers. Plus many high quality photographs and maps.
Published: January 2014
ISBN: 9781780056050