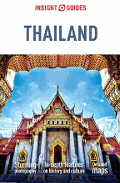 Insight Thailand Travel Guide
Price:
$23.99
You Save: $4.80 (20.01%)
From the Leaders in Visual Travel Guides and the Discovery Channel
Insight Guide Thailand is a full-color, inspirational guide to getting the most out of one the world's most exotic destinations. Lively and accessible History and Culture chapters explain the country's intriguing past as a cultural melting pot in South East Asia and the religion that has shaped the country today.
Thailand's cultural treasures are explored alongside the breathtaking landscape that attracts so many international visitors. The influences on Thailand's world-famous cuisine are also investigated alongside tips for sampling the local favorite dishes. To help with planning a trip, the Places chapters cover the entire country in detail, including the frenetic capital, Bangkok, and relaxing Chiang Mai in the North, and also suggest which of Thailand's beautiful islands and beaches to visit.
Full-color photographs throughout illustrate the beauty of the Thai landscape more than any other guide to the country on the market and give a true flavor of Thai life today. Detailed maps throughout the book help visitors get around the different areas, with all major sites cross-referenced with the text, and the Travel Tips offer an A-Z of practical information and our selective, independent reviews of the best places to stay and eat.
Evocative Photography - Insight Guides are renowned for their evocative pictures, which vividly convey a sense of everyday life.
Illuminating Text - Expert writers bring to life Thailand's history, culture, landscapes, and, above all, it's people.
Incisive Evaluations - From the Grand Palace to Ko Samui, from Chiang Mai to the ancient ruins of Khorat Plateau, it's all here
Detailed, Cross-Referenced Maps - All sights are clearly highlighted and numbered in relation to the text.
Full Listings - All the travel details, hotels, restaurants, and phone numbers you'll need
Insight Guide Thailand includes a section detailing Thailand's history, features covering aspects of the type's life and culture, ranging from Performing Arts to the Hill Tribes, a region by region visitor's guide to the sights, and a comprehensive Travel Tips section packed with essential contact addresses and numbers. Plus many high quality photographs and maps.
Published: June 2013
Need a great map of Thailand? The Globetrotter Map of Thailand is a great choice for all travelers.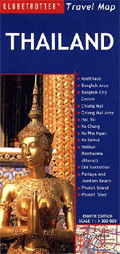 ISBN: 9781780050980