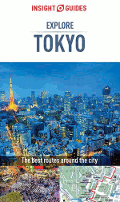 Insight Tokyo City Guide Travel Guide
Price:
$19.99
You Save: $4.00 (20.01%)
Available December 2013
City Guide Tokyo offers comprehensive travel advice for what to do and where to go in one of Asia's most fast-paced cities. Engaging and inspirational History and Culture chapters explain the city's intriguing and proud past, and the factors influencing contemporary society.
The fashion scene, architectural treasures and local cuisine are fully explored so that visitors can gain a sense of how Tokyo's distinctive character and culture have been shaped. The Best of Tokyo section gives our recommendations for planning the perfect trip – from visiting tranquil temples to joining the crowds in Shibuya's glitzy shopping malls.
The Places chapters cover all areas of the city in detail, including Harajuku and Roppongi. There are also plenty of ideas for hopping on Japan's super-efficient rail network to make excursions to Mount Fuji, Yokohama, and the spectacular former capital, Kamakura.
Full-color photography throughout gives a true flavor of life in the city today. Detailed maps help visitors get around, with all major sites cross-referenced with the text, and the Travel Tips offer selective advice on where to stay, what to eat and practical information on cultural, outdoor and sporting activities.
Evocative Photography - Insight Guides are renowned for their evocative pictures, which vividly convey a sense of everyday life.
Illuminating Text - Expert writers bring to life Tokyo's history, culture, landscapes, and, above all, it's people.
Incisive Evaluations - From traditional Asakusa to throbbing Roppongi, and from fashionable Shibuya to funky Shinjuku, it's all here
Detailed, Cross-Referenced Maps - All sights are clearly highlighted and numbered in relation to the text.
Full Listings - All the travel details, hotels, restaurants, and phone numbers you'll need
Insight Guide Tokyo includes a section detailing Tokyo's history, features covering aspects of the type's life and culture, ranging from Fashion Design to Tokyo Nights, a region by region visitor's guide to the sights, and a comprehensive Travel Tips section packed with essential contact addresses and numbers. Plus maps, including the Tokyo Subway, and many impressive photographs.
Published: December 2013
Need a great map of Tokyo? The Borch Map of Tokyo is a great choice for all travelers.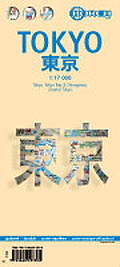 ISBN: 9781780052120