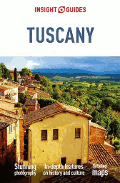 Insight Tuscany Travel Guide
Price:
$21.99
You Save: $4.40 (20.01%)
From the World leaders in Visual Travel Guides and the Discovery Channel
Insight Regional Guide Tuscany offers a uniquely comprehensive approach to getting the most out of one of Europe's most alluring destinations. Engaging and inspirational History and Culture chapters explain the region's intriguing past as the birthplace of the Renaissance, and the factors influencing its future; from the ancient Etruscans, through to the Medici and the intense period of artistic expression, to the impact of both Italian Unification on Florence and ever-increasing tourist numbers.
Renaissance art, architectural treasures, local cuisine and the landscape of the region are fully explored so that visitors can gain a sense of how Tuscany's distinctive character and culture has been shaped. The Places chapters cover Florence and the surrounding towns and countryside in detail to help with planning a trip.
Full-color photographs throughout illustrate the beauty of Tuscany more than any other guide on the market and give a true flavor of Tuscan life today. Detailed maps help visitors get around the different areas, with all major sites cross-referenced with the text, and a pull-out touring map gives 9 great drives around the region. The Travel Tips offer selective advice on where to stay and eat.
Evocative Photography - Insight Guides are renowned for their great pictures, which vividly convey a sense of everyday life.
Incisive Evaluations - From Florence to Siena and the isle of Elba to the marshes of the Maremma, it's all here.
Detailed Cross-Referenced Maps - All sites are clearly highlighted and numbered in relation to the text.
Full Listings - All the travel details, hotels, restaurants, and phone numbers you'll need!
Insight Guide Tuscany includes a section detailing Tuscany's history, features covering aspects of the type's life and culture, ranging from Architectural Treasures to A Taste of Tuscany, a region by region visitor's guide to the sights, and a comprehensive Travel Tips section packed with essential contact addresses and numbers. Plus maps and many high quality photographs.
Published: December 2015
Need a great map of Tuscany? The Touring Club Italiano Map of Tuscany is a great choice for all travelers.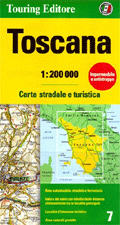 ISBN: 9781780052977