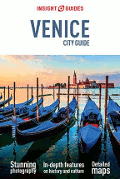 Insight Venice City Guide Travel Guide
Price:
$19.99
You Save: $4.00 (20.01%)
Full-color travel guide to Venice
Full-color travel guide to Venice, one of Europe's most historic and beautiful cities, with comprehensive descriptions of all sights and attractions, and clearly presented practical information. Full-color photographs and maps throughout, a comprehensive street atlas section and a handy orientation map on the inside front cover.
The Features section focuses on the city's history, people and culture, from its wealth of art and architecture to opera and the Venice carnival. The Places section covers each neighborhood of the city, as well as the surrounding islands.
A section on museums covers the Museo Correr and Palazzo Grassi.
Photo features include Regattas and Water Festivals, San Marco and The Accademia. A section on travel tips provides information on transport, accommodation, activities, and language. Twelve area maps provide easy navigation.
Illuminating text Expert writers offer real insight into Venice's history, culture, politics, arts and, above all, the people
Incisive evaluations From the Doge's Palace and the dazzling palazzi of the Grand Canal to the hidden charms of the back streets, it's all here
Evocative photography Insight Guides are renowned for their great pictures, which vividly convey a sense of everyday life
Pictorial guides to major attractions Detailed photo-features explore Venice's museums, festivals, art and architecture
Full listings All the travel details, hotels and contact numbers you'll need
Published: May 2011
Need a great map of Venice? The Streetwise Map of Venice is a great choice for all travelers! It is laminated for durability and folds accordion-style - so you don't look like a tourist!
ISBN: 9789812822345