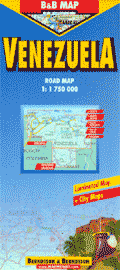 Berndtson & Berndtson Venezuela Travel Map
Price:
$10.95
You Save: $1.09 (9.95%)
Laminated for Durability! Beautiful and Accurate!
This two-sided map of Venezuela includes several supplementary maps, each with index. The product is foldable, durable, waterproof and laminated, giving it an easy-to-clean surface. Mark on the map with a magic marker; wipe it off to start anew.
Detailed Maps:
Venezuela 1:1 750 000
Territorio Amazonas 1:2 000 000
Caracas 1:17 000
Greater Caracas 1:450 000
Isla de Margarita 1:250 000
Porlamar 1:15 000
Islas Los Roques 1:500 000
When the Spanish conquistadors first reached the shores of Lake Maracaibo, they found an Indian pile village reminding them of Venice. They named the village Venezuela or Little Venice. Little Venice vanished into the dark depths of colonial history, which ended with the declaration of independence on 5 July 1811. Today, Lake Maracaibo bristles with oil derricks pumping the black gold which has made Venezuela one of the wealthiest countries in South America. For tourists, however, the country's greatest wealth lies in the varied landscape, in its unique flora and fauna. The Llanos Steppe (the "Serengeti of South America"), for example, is the habitat of howling apes, foxes, anteaters and the shy ocelot. The rain forests are full of undiscovered plant species; the Guyana Plateau inspired "Sherlock Holmes" Conan Doyle; and the highest waterfall in the world, Salto del Angel, roars downward from a height of 980 meters. To top it all off, Venezuela offers gorgeous beaches, comfortable hotels and a delicious cuisine enriched by the incomparable flavors of fresh, tropical fruits.
Do you need a great guide book to Venezuela? We highly recommend the Bradt Guide to Venezuela. This is a wonderfully written guide packed with useful travel information.
ISBN: 3866095724