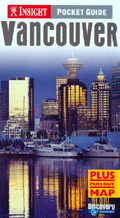 Insight Vancouver Pocket Guide Travel Guide
Price:
$13.95
You Save: $2.79 (20.00%)
Includes FREE Pullout Map
This is the guide that answers the questions you'd ask a friend who lived in Vancouver. Which places are really worth seeing? What excursions shouldn't be missed? Where are the great places tourists haven't yet discovered? Written by a local host, it is based on intimate knowledge of Vancouver and the city of Victoria.
Everything you need is in this book:
History and culture Vancouver's colorful past and present explained in a nutshell. Pages 11-17 .
Tailor-made itineraries 10 itineraries linking the highlights of Central and West Vancouver, and the North Shore. Pages 21-49
Selected excursions Three excursions explore the city of Victoria, the Gulf Islands and Whistler Mountain. Pages 51-63
Shopping, eating out and nightlife Tips on what to buy, where to eat and where to stay out late. Pages 65-81
Essential practical information Hotels, climate, currency, getting around, useful addresses, etc. Pages 83-91
Detailed pullout map This gives an overview of the tours and can also be used independently of the guide
Published: 2005
Need a great map of Vancouver? The Insight Fleximap of Vancouver is a great choice for all travelers.
ISBN: 9789812580689