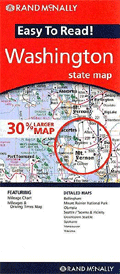 Rand McNally Washington Travel Map
Price:
$5.99
You Save: $0.60 (10.02%)
Something for Everyone Who Travels!
Rand McNally folded maps have been the trusted standard for years, offering unbeatable accuracy and reliability at a great price.
This folded map shows all Interstate, U.S., state, and county highways for Washington, with clearly indicated parks, points of interest, airports, county boundaries, and more.
Detailed indices make for quick and easy location of destinations. It's a must-have for anyone traveling in and around the state. Measures 9.5" x 4" and folds out to 40" x 28". Includes info about Mt. Rainier National Park.
Communities covered: Bellingham, Central Seattle, Olympia, Seattle & Vicinity, Spokane, Vancouver, Yakima.
This map is 30% larger and is very easy to read.
ISBN: 9780528882104