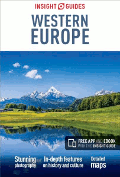 Insight Western Europe Travel Guide
Price:
$24.99
You Save: $5.00 (20.01%)
The world's largest visual travel guide series!
Insight Guide Western Europe is a comprehensive and inspiring guide to Europe – with its beautiful photos, full-color maps, lively features and wealth of information, this guide is a one-stop shop for those traveling to the continent.
The 'Best of Western Europe' section illustrates all the must-see sights, from Spain's Alhambra to the beaches of Greece, from the canals of Venice, Bruges and Amsterdam to the coffee shops of Vienna. Entire chapters are devoted to the main cities of each country, so Paris, Berlin, Madrid, Barcelona, Amsterdam, Rome, Venice, Florence, Brussels, Vienna and Lisbon are all covered in detail. Magazine-style spreads illustrate Europe's classic railway journeys, its best art galleries, architecture and wildlife.
Newly commissioned photos bring the diverse countries to life in all their splendid variety, while brand new full-color maps, cross-referenced to the text, make planning and getting around much easier.
A comprehensive section of travel tips gives essential guidance in such vexed issues as how much to tip, how to keep the children entertained and how much to budget. Information on public transportation in each of the main cities and in each country is also included.
Covers Austria, Belgium, France, Germany, Greece, Italy, The Netherlands, Portugal, Spain, and Switzerland.
Published: July 2013
ISBN: 9781780051413