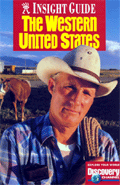 Insight Western United States Travel Guide
Price:
$24.95
You Save: $4.99 (20.00%)
From the World Leaders in Visual Travel Guides, Along With the Discovery Channel.
The Western United States Insight Guide-
provides everything you'll ever need in a guidebook. It is an inspiring background read, an invaluable on-the-spot companion and a superior souvenir of your visit.

Evocative Photography
Insight Guides are renowned for their great pictures, which vividly convey a sense of everyday life.

Incisive Evaluations
All 22 states west of the Mississippi River are here, from Missouri, where the West begins, through Texas and the Southwest to Washington, the final terrain.
Detailed Cross-referenced Maps
All sites are clearly highlighted and numbered in relation to the text.
Full Listings
All the travel details, hotels, restaurants, and phone numbers you'll need!
Published: 2000
ISBN: 9780887293641