Caribbean & The Bahamas Cadogan Guide

The Caribbean has captivated travelers for centuries with the warmth of the sun, the coral filled seas and the startling colors and scents of the fruit and flowers. The islands' long history has left traces from all over the world: Parisian chic, English parish churches, Dutch gables, Hindu prayer flags and, everywhere, echoes of Africa, not least of all in the all -accompanying rhythms, from Jamaican reggae to Haitian voodoo drums.
$22.95
California Traveler's Companion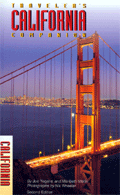 Whether you are dreaming from an armchair or booking your flight, the Traveler's Companion guides deliver the best information and guidance for exploring a country.
$24.95