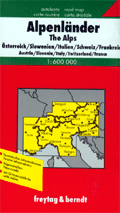 Freytag und Berndt The Alps Travel Map
Price:
$14.95
You Save: $1.49 (9.97%)
Freytag & Berndt - Austrian Publishers of Travel Maps & Atlases
Freytag & Berndt maps feature:
Computerized Cartography
Easy-to-read Index
Multi-lingual map key.
Freytag & Berndt maps are handy road maps that cover most of Europe as well as Asia and Africa. With over 175 country and city maps as well as atlases, Freytag & Berndt know how to get you there!
Freytag & Berndt maps are beautiful and highly detailed. They come with stiff covers and extra heavy paper for durability.
This map of The Alps is printed on both sides of the page. In addition to the cartography, this map includes a list of alpine roads and passes. The info includes the country that the pass lies in, the altitude, maximum grade in percent, starting point and whether the road is closed in winter. It has a wealth of tourist information.
This map covers Austria, Slovenia, Italy, Switzerland and France.
Scale: 1:500,000
Published: 2015
ISBN: 9783707904253