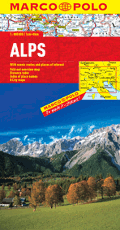 Marco Polo Alps Travel Map
Price:
$11.95
You Save: $1.19 (9.96%)
Marco Polo Maps presents the Alpine areas of Europe on a large overview road map at a scale of 1:800,000 including a 64-page index booklet listing locations and geographical features, and also providing information about mountain passes.
Coverage extends from the Rhone and Dijon to Vienna and Zagreb, and from Stuttgart to Tuscany and Umbria. Relief shading with spot heights and plenty of names of individual mountain chains, valleys, etc. shows the topography. Road network indicates toll barriers, motorway services, seasonal closures, roads restricted to or not recommended for large vehicles, steep gradients, scenic routes, etc. Towns and villages worth visiting and interesting natural features are prominently highlighted. Latitude and longitude grid is drawn at 30' intervals. Multilingual map legend includes English.
Includes 8 city maps: Bern, Geneve, Milano, Venezia, Wien, Salzburg, Innsbruck & Zurich. A fold-out overview map is ideal for route planning and 7 self-adhesive Marco Polo mark-it stickers can be used to pin-point a destination or route for future reference. Scenic routes and places of interest are highlighted - ideal for touring holidays. Comprehensive index.
The map scale is 1: 800 000.
Published: 2012
ISBN: 9783829767187