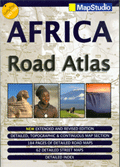 MapStudio Africa Road Atlas Travel Map
Availability:
Out of Stock
Price:
$44.95
You Save: $4.49 (9.99%)
OUT OF STOCK
This Paperback road atlas has 270 pages of information, maps and indices. It contains detailed tourist area maps of Africa's Top Regions and sites.
The road maps are presented at a scale of 1:1,500,000. for Southern and East Africa and a scale of 1:3,000,000 for Central and Northern Africa.
There is a large street section map presented at various scales.
Main railways and international and provincial boundaries are marked and symbols denote a range of tourism features and landmarks: campsites, oases, border control points, airports, major ferries, viewpoints, waterfalls, battlefields, historical and heritage sites and other places of interest.
Latitude & longitude are indicated at the map corners; the map legend is in English only. A distance chart is included along with a very complete index.
Covers all African countries including Indian Ocean Islands. Overview maps include Africa, Parks of Africa, Towns of Africa & adventures in Africa. Includes 62 street maps to major cities (e.g. Accra, Algiers, Beira, Durban, Gaborone, Harare, Johannesburg)
Paperback Book, 272 pages
ISBN: 9781868098019