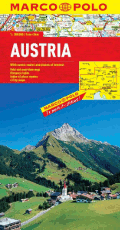 Marco Polo Austria Travel Map
Price:
$11.95
You Save: $1.19 (9.96%)
Scale 1:300,000
Austria from Marco Polo Travel Publishing is a map with prominent highlighting of interesting locations, 9 more detailed enlargements, plus an index booklet with 12 city maps and brief descriptions of 15 selected top sights, etc. The map divides the country east/west with a very generous overlap and Salzburg included on both sides. Coverage extends north to Munich and south to Bolzano.
Road network includes minor roads, highlights scenic roads and special tourist routes, shows intermediate driving distances on main roads, and indicates motorway services, toll stations, caravan and vehicle restrictions, seasonal closures of mountain roads, etc. Railway lines and local airports are included, as well as administrative divisions with names of the states. Locations of interest are prominently highlighted, with separate coloring for towns or villages and for natural sites. Symbols show locations of campsites, youth hostels, etc. National parks and other protected areas are marked and topography is presented by relief shading with plenty of names of mountain ranges, valleys, etc. The map has no geographical coordinates. Multilingual map legend includes English.
Enlargements showing road network in greater detail are placed on the appropriate side of the map and cover the environs of Vienna, Bregenz, Graz, Innsbruck, Klagenfurt, Linz, Salzburg and Villach, plus Bolzano in Italy. A separate 79-page booklet attached to the map cover includes an index which also lists national parks, UNESCO World Heritage sites, airports and amusement parks. The booklet also contains brief descriptions of 15 most interesting locations prominently highlighted on the map, plus street plans of central Vienna, Bregenz, Eisenstadt, Feldkirch, Graz, Innsbruck, Klagenfurt, Linz, Salzburg Sankt Pölten and Villach, plus Bolzano in Italy.
A fold-out flap in the cover shows for route planning an overview of the whole area covered by the map plus the adjacent regions, prominently highlighting main places of interest, with the grid reference system in the margins making it easier to find locations on the main map. Also included are a distance/driving times table and basic driving regulations.
Published 2012
ISBN: 9783829767156