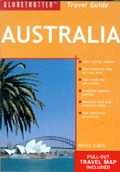 Globetrotter Australia Travel Guide
Price:
$14.95
You Save: $2.99 (20.00%)
by Bruce Elder
Practical, informative, and user-friendly, the Globetrotter Travel Guide to Australia highlights the major places of interest, describing their principal attractions, and offering sound suggestions on where to tour, stay, eat, shop, and relax.
Maps - Over 25 full-color area maps, town plans, and locator maps.
Photography - Over 75 full-color photographs.
Fold-Out Map included
Bruce Elder, based in Sydney, is a well-known travel writer, journalist, and music critic. He has traveled extensively throughout Australia and has a deep knowledge of Australian culture, history, and geography. He has written over 50 books, including This Is Australia, and the Globetrotter Travel Guide to Sydney.
Need a great map of Australia? The Hammond Map of Australia is a great choice for all travelers.
ISBN: 1845374355