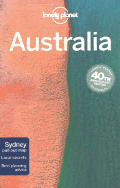 Lonely Planet Australia Travel Guide
Price:
$29.99
You Save: $6.00 (20.01%)
Up Front, Outback, Down Under
No one knows Australia like Lonely Planet... remember, we live here! We know where Sydney's best surf beaches are, where to get the best coffee in Melbourne's cobbled lanes, and how to cross the great red plains in a van without getting scorched.
The world's best-selling guide to Australia!
158 detailed and easy to use maps
Full coverage - bustling cities, outback trails and everything in between
Unique Green Index to help make your travels as ecofriendly as you wish
16-page color map section, to navigate the country's highways and byways
Accommodation to suit all budgets
How do you get around this magnificent, monster country? Do you saddle up the caravan and take to the highways? Do you work your way around every town and city, picking fruit and pulling beers? Or do you slow it right down and simply languish in a rainforest or amble through the wine regions? This guide will show you how to do all of the above and love every minute of it.
Published: November 2017
ISBN: 9781786572370