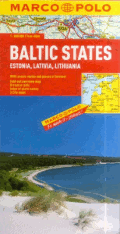 Marco Polo Baltic States Estonia, Latvia, Lithuania Travel Map
Price:
$11.95
You Save: $1.19 (9.96%)
The Baltic States of Estonia, Latvia and Lithuania at 1:800,000 from Marco Polo, with special features to aid navigation, street maps of the city centers of Talinn, Riga and Vilnius, and an extensive index listing areas with postal codes. Coverage includes the Kaliningrad Oblast of Russia and extends to St. Petersburg, Minsk, Gdansk, Helsinki and Stockholm.
There is a special fold-out flap on the map jacket that provides an overview of the area and highlights popular locations, with the grid reference system in the margins making it easier to find places on the main map. A set of seven peel-on/peel-off stickers, removable without damaging the map surface, is provided for making selected locations more prominent when navigating.
The map has relief shading with spot heights and graphics for swamps and marshlands to present the topography. Road network includes minor local roads, highlights scenic sections, and gives distance on primary routes. Railway lines and ferry routes are shown and local airports are marked. Interesting towns and villages as well national parks or protected area and other special natural sights are prominently highlighted. Latitude and longitude grid is drawn at 30' intervals. Map legend includes English.
A separate booklet attached to the map cover has a separate index for each country, listing localities with their postcodes. Also provided are street maps of central parts of Tallinn, Riga and Vilnius, plus a distance table.
Published: January 2014
ISBN: 9783829738514